The High Cost of Home Rule

In the early 1990s, Washington, DC was gripped by epidemics of drugs, violence and political turmoil that ravaged the city and left it nearly bankrupt. Seeking to restore order and financial solvency, Congress assumed control of district affairs by instituting a Financial Control Board. While the board was reviled for its perceived role in disempowering Washingtonians, and especially those of color, it also ushered in an era of government efficiency and economic prosperity–leaving behind a mixed legacy that we still grapple with today.
What is Humanitini?
Humanitini is an exciting happy hour event where Washington's movers, shakers, and creators come together to think and drink. In honor of D.C.'s 225th anniversary, this year's Humanitini series has celebrated our city's colorful past, so that we can appreciate the present and plan for the future. Join us to engage with your peers, meet your neighbors, and learn from experts about what makes our city a unique place to live and play.
The Panelists
Joyce Ladner is a renowned activist and eminent sociologist, having studied and interpreted the intersectionality of race, gender and class. Ladner was a professor of sociology at Hunter College and the City University of New York Graduate Center, and Howard University. She also served as provost and interim president of Howard University. Ladner earned a B.A. from Tougaloo College and a Ph.D. from Washington University, St. Louis. She also studied the roles of women in nation building at the University of Dar Es Salaam in Tanzania. In 1995, President Bill Clinton appointed her to the District of Columbia Financial Responsibility and Management Assistance Authority to oversee the financial restructuring of the D.C. public school system. Throughout her career, Ladner served as an advocate and key commentator on national social issues. She retired in 2003.
Derek Musgrove teaches courses in Post-WWII United States History with an emphasis on African American politics. He is the author of Rumor, Repression, and Racial Politics: How the Harassment of Black Elected Officials Shaped Post-Civil Rights America (University of Georgia Press, 2012) and a number of popular and scholarly articles on post-civil rights era black politics. He is finishing a history of race and democracy in Washington, DC with his good friend Chris Myers Asch.   In Fall 2016, he will on fellowship leave to work on his new project, "The Black Nationalist Resurgence and the Changing Nature of Black Protest in the Post-Civil Rights Period."
Amanda Huron is Assistant Professor of Interdisciplinary Social Sciences in the College of Arts and Sciences at the University of the District of Columbia. Her research interests include urban geography, urban planning, the urban commons, affordable and cooperative housing, the history of Washington, D.C., and mapping as a tool for social change. Amanda is an expert in the limited-equity housing cooperatives of Washington, D.C., and is completing a book about these co-ops, entitled Practicing the Urban Commons, which will be published by the University of Minnesota Press in 2018. She was born and raised in Washington D.C.'s Mt. Pleasant neighborhood.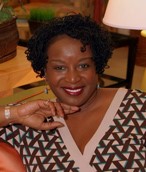 Pamela Perkins, M.A., is the moderator of this event and an alumna of UNC-Chapel Hill and New York University.  She is currently working towards her Ph.D. with an emphasis on Organizational Communication. Through her genius of "Word Power" and program innovation, Pamela has developed the trademark Communication Staircase Model™ into clinics, workshops and presentations that have enriched the lives of thousands empowering their understanding of Communication as an art and a science. P.S. is the author of the highly acclaimed business self-help book, The Art and Science of Communication: Tools for Effective Communication in the Workplace, released in 2008 by John Wiley & Sons, Inc., as well as a contributing author to the books Laws of Communication, Wiley Publishers, 2009, Wake Up Women, 2009 and the e-book 77 Best Ways to Communicate in 7 Steps. Her highly anticipated book on self-esteem & self-worth for young girls, Stories From the Mirror, is due for release later this year. She is a frequent radio/talk show communication expert, as well as a sought after motivational speaker,  Pamela is a Professor of Speech at the University of the District of Columbia Community College.